Ars Electronica 2021
The Ars Electronica in Linz is both a centre and a festival that extends to various locations in the Austrian city, including the Johannes Kepler University and the Offenes Kulturhaus. Its artistic director, Gerfried Stocker, questions our digital world to better understand its transformations, wherein, we discover creations articulated around the notion of measurement.
An art of measurement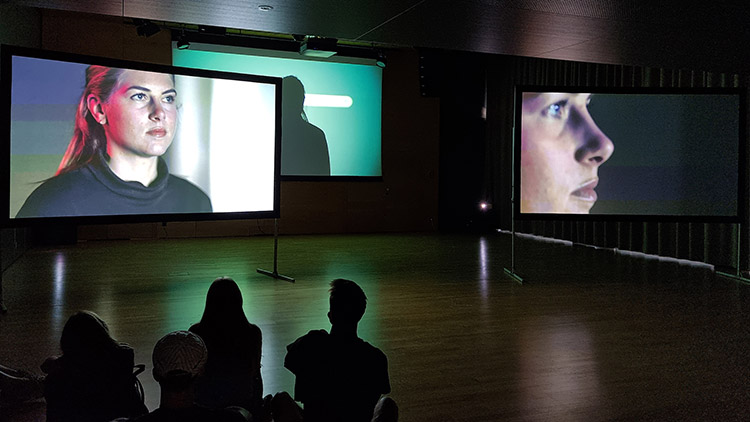 Group Laokoon, Made to Measure, 2021.
The theme exhibition at the Johannes Kepler University Campus focuses on our relationship with artificial intelligence. The exhibition features the video installation Made to Measure by the Laokoon group, which includes Hans Block, Moritz Riesewieck and Cosima Terrasse. It is a research project that is halfway between documentary and fiction. At the beginning, there is the data set collected by Google on an unknown person. The idea is to stage the life of this person, of whom we know nothing – but her queries – that, by cross-checking, allow them to reconstitute her personality with the knowledge that today there are algorithms that know more about our behaviour than our loved ones do. The video sequences of Made to Measure required sets, actresses and actors who were filmed like a fiction. But they are also interspersed with interviews with researchers. Projected on a three-screen installation, this video creation is consistent with that of a kind of contemporary art that research structures, and that cinema inspires. As for the theme developed, it refers to the intensely topical questions raised by the automated collection and processing of our personal data.
The value of things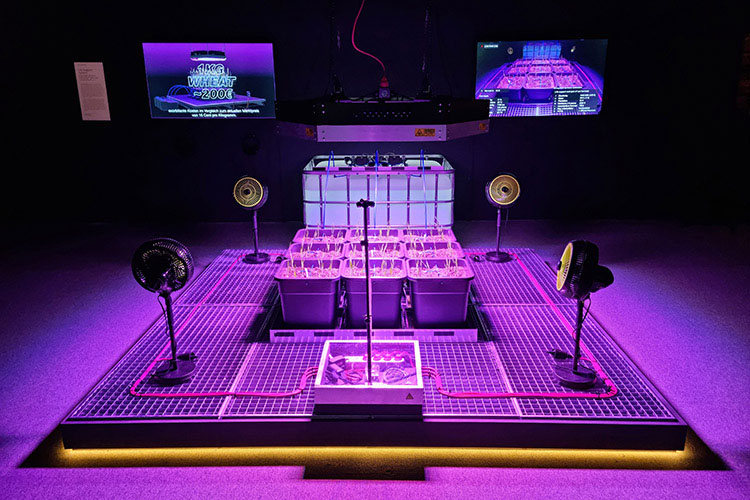 Disnovation.org, Life Support System, 2020.
What dreams come to us when contemplating architectural representations, where nature, which in stages, appears to us to be so perfectly controlled? Here we are referring to vertical farms and hydroponic crops. This kind of 'above ground' agriculture is presented by the artists Nicolas Maigret and Maria Roszkowska from the duo Disnovation.org who, along with Baruch Gottlieb, have collaborated on the project Life Support System. A fully automated installation at the Ars Electronica Centre in Linz is growing a square meter of wheat. But the grain is also under close surveillance: the system measures the costs of electricity, water and nutrients that are necessary for its growth. On a monitor connected to the installation, spectators can follow the expenses in real time: the sun simulated by a light, the air stirred by fans and the water rich in nutrients. These data, which are never quantified in traditional agriculture, are scrupulously measured here. A kilogram of wheat that is worth about one euro on our supermarket shelves will end up costing a few hundred in the context of this exhibition entitled, There Is No Planet B. The exorbitant cost of an artificially reconstituted nature might then moderate the projects of the great digital entrepreneurs who dream of living elsewhere, in this case, the planet Mars. But we must admit that there is really no plan B for the moment. It is therefore high time to consider the value of what nature so graciously offers us when we act as stewards for it.
A theory of cloud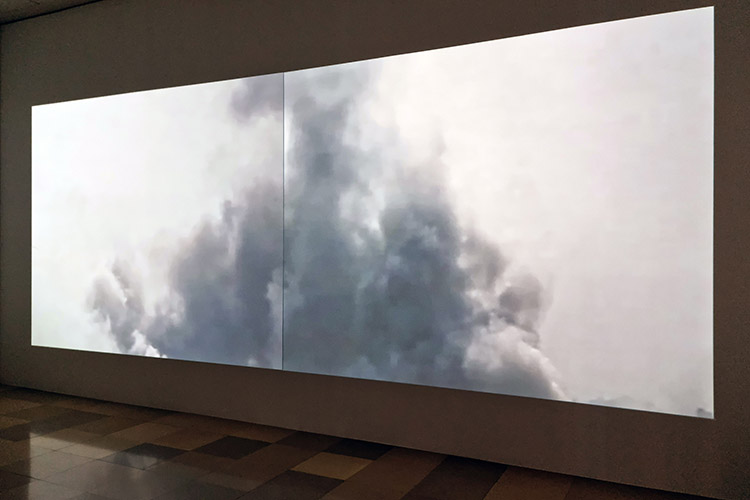 Forensic Architecture, Cloud Studies, 2021.
This year's Golden Nica Award in the Artificial Intelligence & Life Art category went to the research agency Forensic Architecture, based at Goldsmiths University in London. This is a studio of architects, researchers, programmers, and investigative journalists whose work ranges from tribunals and conferences to museums and art centres. More than ever, conflicts arise through images. Together, they collect large quantities of images to measure all the details to reveal truths other than those provided by states committing violence. The video installation Cloud Studies presented by Forensic Architecture in the OK Centrum's Cyber Art exhibition, mixes live testimonies with three-dimensional simulations where reality is augmented with graphic information and textual data. At the same time, a female voice with a factual tone unfolds a narrative through the case studies. What all the clouds of this research have in common is having emerged from conflicts or riots. Their toxicity, even if it need not be demonstrated, is analysed by the image according to different points of view where the slightest movements are tracked with the help of algorithms. Politics is at the centre of this research, which ends with an evocation of the representation of the cloud in painting. One thinks of A Theory of Cloud of 1972, in which Hubert Damisch analyses pictorial representations of atmospheric phenomena to better understand the times. With Forensic Architecture, the detailed study of the clouds of white phosphorus munitions and tear gas, sheds light on the societal contexts of their emissions internationally.